THE WEST, TEXAS METEORITE HUNT
Some Memoirs
To begin with, it should be said that for the first time in my meteorite hunting experience, the strewnfield was to be divided into teams. This was an approach that made little sense in Park Forest but worked well in this setting. The race was on from the moment the first pieces were discovered and in a land where everything is bigger; the lots owned by landowners were too immense for one person to hunt. If time wasn't spent locking down a piece of land then someone else was going to get it. As such, a team approach worked to keep some hunting, some scouting, and some talking with landowners. Lines were drawn…and they weren't crossed.
It did come as some surprise that we rarely ran into the other teams but, as I said, the land lots were huge. It was a very rare occasion to cross paths with a member of another team, a concept I suppose I did not care too much for as it would have been nice to see all the familiar faces.
I found myself aligned with Steve Arnold IMB, Geoff Notkin, Ruben Garcia, Sonny Clary, Mike Miller, Jason Phillips, Mike Bandli, Patrick Thompson, Suzanne Morrison, John Sinclair, and Jim Schwade.

Photo courtesy Geoff Notkin
We hunted by day and told stories of our finds over long dinners at night. Those dinners, the ones after a day in the field, any field, remain and will continue to be some of the fondest memories in my life.
We enjoyed great success and wondered often how the other teams were doing, suspecting that we were outpacing them handily. Steve Arnold and Mike Farmer emerged as team captains, largely based on their experience, and they would communicate on occasion by telephone but neither would disclose actual numbers for fear of another team encroaching.
Of the many places we hunted, one in particular stands out as the best producer, the easiest hunted, and the fondest remembered. You see, most of the farm fields in West are grass, tall grass, hard to hunt in. But one little honey hole stood out. Secluded between two massive stands of bamboo was a cotton field with nicely laid out rows on cracked earth. The act of gridding an area can be tedious. Here we not only had good visibility but our grid rows were laid out before us. We took about three rows each pass and by the end of the trip everyone who hunted there found a meteorite.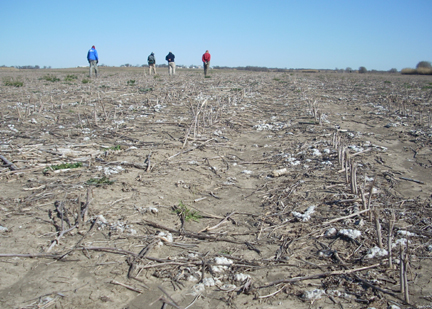 Photo courtesy Geoff Notkin
From the cotton field one could find bearings on the sweet spot by lining up with a landmark we referred to simply as the Red Roofed House. The owners will never know how helpful that house was. It gave us cause to look just a little harder.

Photo courtesy Mike Bandli
If you make a line from the cotton field to the Red Roofed House and kept that line going just a little further south you run into a cemetery. While hunting there wasn't as good, it did produce and came to mark the southernmost end of the strewnfield.
| | |
| --- | --- |
| Photo courtesy Mike Bandli | Of personal anecdotal significance was a small statue from near the cemetery found first in a field by Patrick who picked it up and moved it to a roadside ditch. Several of us saw it in the ditch then Geoff decided to pick it up and move it toward the road. Mike found it by the road and placed it on the cemetery fence where a few of us driving by the fence had to do a double take. It appears that we all saw it at different times and discussed it one night at dinner in great detail. We made a special trip back to get a photo of it. We desperately wanted to take it home but feared the implications of so doing. |
| | |
| --- | --- |
| Photo courtesy Patrick Thompson | Another excellent find was a set of chrome Truck Nutz ™ that Patrick found in a field out in the middle of nowhere. Needless to say they were instantly lashed to the rental SUV and were not removed until arriving at the rental return. They are safe now with Patrick and stand ready for the next hunt. |
| | |
| --- | --- |
| Photo courtesy Geoff Notkin | Adding to the middle of nowhere finds was Geoff Notkin's occasion to stumble across a brick in the middle of the Truck Nutz ™ field. Aptly states only the word "Texas". I was with him when it was found, so random yet apropos. |
| | |
| --- | --- |
| Photo courtesy Patrick Thompson | Finally, here I am wearing a cow pelvis as a mask. I snuck up on Patrick and once I got in close yelled "Looks like meat's back on the menu boys" It was a fleeting thought for me but Patrick really got a kick out of it. |
Other memories include finding a stone at the northern end of the strewnfield on the property of Maureen and Tom Holy. The stone was buried completely in a plowed field filled with holes from this and that. I truly was lucky that that one-in-a-million hole paid out. Maureen was quite enchanted with the find, reminding us that "it was found on Holy land ." We revisited her property a couple days later and she hunted with us for a few hours with no luck. The stone ultimately went to Ruben for his help with the Hopper Stone which has been covered in detail but I will cover briefly now a few bullet points.
Hopper was the first being I met when I arrived in West.
The Hopper story was covered around the planet via TV, radio, web, magazines, and newspapers including but limited to: USA Today, People, CNN, Discovery Channel, Popular Science and several newspapers in Texas and Oregon . Never having been in the limelight before, I had a blast.

Photo courtesy Mike Bandli
Owner Pauline Aligood was a shrewd negotiator and had Ruben and me driving all over Texas before finally settling on a price for the stone Hopper found.
I learned the difference between meteorite hunters and collectors, Ruben simply could not bring himself to pay such a sum for a stone he could find for free. I owe him a debt of gratitude for bringing me in to buy it.
Though I hid it at the time, I got choked up when Mitch Bynum played music for us. The sum of owning the best stone I could ever want, Ruben's generosity, the lives we just intersected with, and the cosmic chance putting a dog at that place at that time just got to me. It's why I love meteorites.

Photo courtesy Ruben Garcia
Some other things I remember fondly:
Getting to know Mike Bandli better, West led us to Buzzard Coulee
Seeing my first Longhorn bull
Sniping a meteorite out of Jason's row while he was texting Bran
Seeing Jim Schwade scale under a barbed wire fence like Catherine Zeta Jones in Entrapment
Finding a sweet spot with Steve, Mike and Jason and planning to go to lunch when two other team members showed up. We decided it was better to go hungry.
Saving scraps for Hopper
The Kolaches at the Czech Bakery
Bandli's sunburn
Patrick's uncanny ability to find meteorites his first trip out
Spotting a meteorite the same time as Patrick and we didn't fight over it
Stealing doughnuts and eggs from the continental breakfast to keep us going for the day
The thousands of crows, and the horrible sound they made, that lived in the Walmart parking lot
Seeing good friends in the best possible setting