Canyon Diablo
Iron, IAB, Coarse Octahedrite
Found 1891
Coconino County, Arizona, USA


5.6kg Canyon Diablo Bookend crafted by H.H. Nininger in 1949




In September of 1949, a Stanford University graduate named Gale R. Blosser (1913-2009) commissioned Harvey H. Nininger (1887-1986) to create a bookend out of a Canyon Diablo meteorite. 63 years later, we acquired the bookend from the Blosser Estate, along with a chain of letters from Nininger that span three years. Nininger's letters to Blosser detail the creation of the bookend as well as the difficulty of producing such a piece. They also present Blosser with what could be described as a brief lesson in meteoric iron. Below we present the bookend along with Nininger's chain of letters in their entirety.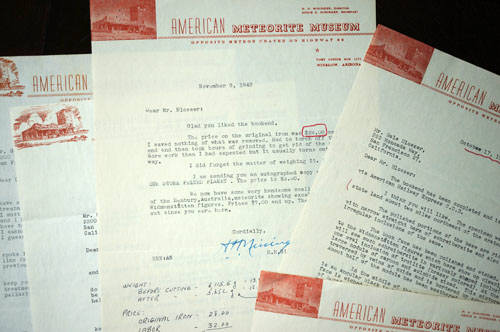 LETTER 1: SEPTEMBER 30, 1949
A 5.652 kilogram Canyon Diablo with base. According to Nininger "The specimen was found on state land about two miles northeast of the crater in 1947." Specimen is Nininger #34.790. Prior to Nininger fabricating it into a bookend, its original weight was 6.115 kilograms.
Detail showing the "Two embossed knobs on top."
Included with this lot:
The Nininiger Collection of Meteorites - signed by H.H. and Addie Nininger with handwritten notes pertaining specifically to this piece that was given to Blosser
Collection notes from Blosser
A letter from Blosser to Nininger dated October 29, 1951
A letter from Glen Huss dated November 23, 1960 explaining further correspondence is redirected due to the sale of the Nininger collection to ASU and the closing of the American Meteorite Museum
A meteor Crater pamphlet from 1955 with hand written noted to Blosser pointing out Meteor Crater as "The source of your Canyon Diablo Meteorite".
This is an amazing opportunity to obtain a Nininger Collection Canyon Diablo, with a remarkable chain of custody, worked on extensively by Nininger himself.