Canyon Diablo
Iron, IAB, Coarse Octahedrite
Found 1891
Coconino County, Arizona, USA
50,000 years ago, a huge iron-nickel meteorite, hurtling at about 40,000 miles per hour, struck the rocky plain of Northern Arizona with an explosive force greater than 20 million tons of TNT.
The meteorite, estimated to have been about 150 feet across weighing several hundred thousand tons, in less than a few seconds, left a crater 700 feet deep and over 4000 feet across.
Today the crater is 550 feet deep, and 2.4 miles in circumference. Twenty football games could be played simultaneously on its floor, while more than two million spectators observed from its sloping sides.
The topographical terrain of Meteor Crater so closely resembles that of the Earth's moon and other planets, NASA designated it as one of the official training sites for the Apollo Astronauts. The U.S. Government deemed the crater a Natural Landmark in 1968.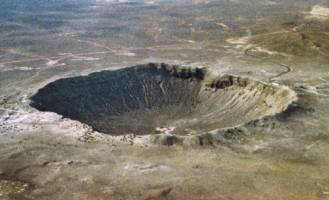 Click on images below to enlarge